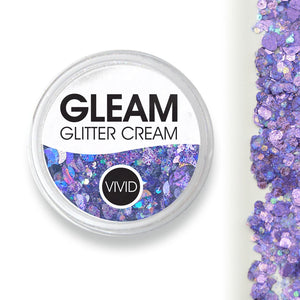 Size: 10gm Base Jar
Purpose is a blend of variety of shapes and sizes of cosmetic grade purple glitters which create a bold metallic coverage with hologram flare.
Vivid's unique cream base is a 1 step process to get the dazzling sparkle on every face with speed and ease. It goes on smooth and will not smear your face or body paint designs. It will not dry out like the typical glitter gels and is also very stable in hot and cold climates.
The product comes in the standard stackable VIVID Glitter jars for compact and efficient transporting. Apply the most vibrant glitter mixes on the market quickly and efficiently on the job.  
HOW TO APPLY: On skin. Caution: DO NOT use near the eyes or on children under 3 yrs.